Accelerating Your Transformation
Transitional Data Services (TDS) works across industries to help enterprise class companies, global organizations and government entities embrace and maximize the power of Hybrid IT by allowing them to accelerate their migration to new cloud, platform, application and data center environments while reducing project risks and lowering overall costs.
Recognized as one of the recommended vendors in the 2018 Gartner Market Guide for IT Resilience Orchestration.
Recognized as a top 20 Most Promising Cloud Solution Providers – 2017 by CIOReview
Recognized as a leading Data Center Solution Provider by CIOReview in May 2016
Recognized as "Cool Vendor" by Gartner in May 2015
TransitionManager software has also been adopted by leading global solutions providers including IBM and EMC
When you work with TDS you partner with a 15 year old company whose values, incentives, people practices, methods, business alliances, and fee structures have been designed from the start to maximize your interests. We're here to help you minimize risk, improve project efficiency, and increase migration speed while facilitating more predictable, forward-thinking technical operations for your company for years to come.
TDS is Unique in Three Key Ways:
We have deep technical experience in all facets of IT. This includes strategy, architecture, implementation, applications development, enterprise systems, leading-edge data center design, and operations.
We take the time to understand your business needs, risk factors and financial ramifications of every decision so we can make recommendations that best align with your short and long-term goals.
We invented the software that makes it easy. TransitionManager is a tool for us and an asset for you. It's our industry-proven, cloud-based data migration platform that puts our years of experience into the hands of each of our consultants, and your project team. It turns complicated migration events into a step-by-step collaborative solution, and it's yours to keep after an event to continue with follow-on activities.
TDS – Orchestrating Complex Hybrid IT and Cloud Transformations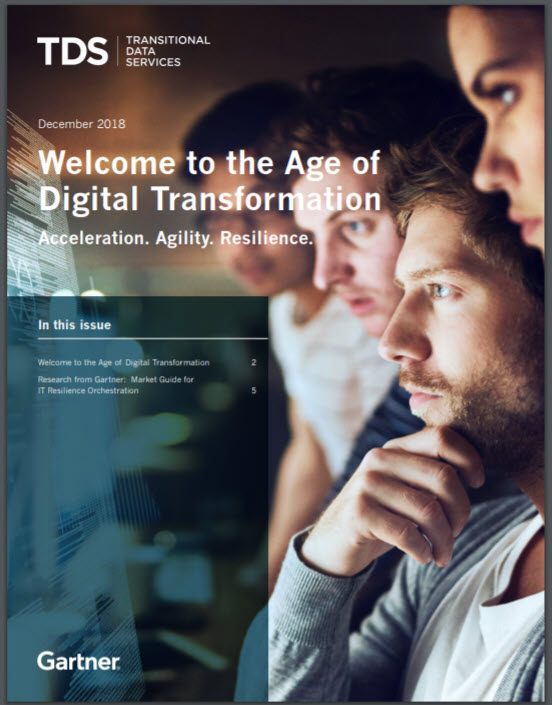 TDS is proud to have been recognized by Gartner once again in the 2018 Market Guide for IT Resilience Orchestration.