Accelerate your Cloud Migration Journey
TransitionManager is a web-based, easy to use, collaborative software tool built to orchestrate cloud migrations, consolidations, and transformations. It leverages our many decades of collective knowledge in data center migrations and IT transformations and will give you confidence at each critical juncture for optimal outcomes.
TDS created TransitionManager to improve the entire process from initial discovery, to analysis and planning, through run-book development and final execution of the move / migration phases. At TDS, we believe that conventional project management methods are insufficient to plan and execute today's complex or time-sensitive migrations which encompass interdependencies spanning all levels of infrastructure and subject matter experts in the company.
TransitionManager is built upon a proven migration methodology which has time and time again helped companies reduce risk, eliminate blind spots and complete migration projects successfully with minimal disruption to operations.
Change is happening fast. Whether your IT team must tackle a M & A, hybrid cloud or data center migration or consolidation, or needs to rebuild your DR plans, TransitionManager can leverage information from your silo-based tools to provide an "actionable vault of truth" for your complete inventory of servers, storage, networks, applications and the interdependencies necessary to assure ongoing operations.
Discovery, Analysis and Planning ››
Runbook Generation, Execution, Reporting ››
Business Resiliency / Disaster Recovery ››
TransitionManager:

Accelerate change, eliminate risk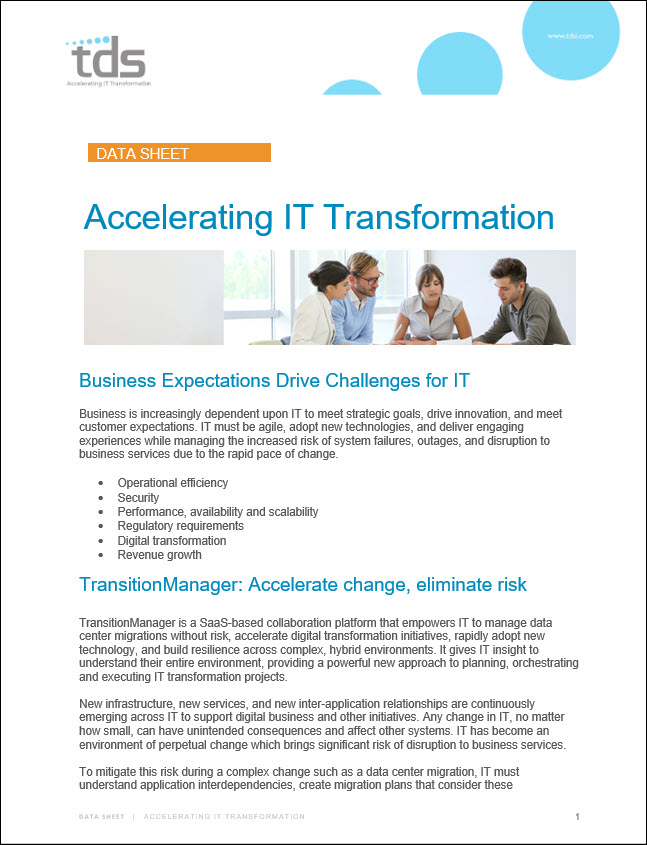 Learn more about TransitionManager
Get the Data Sheet ››